AMPS LLC provides highly qualified professional services for Energy and Defense infrastructure investment and improvement initiatives. AMPS provides professional services in business consulting, technical advisory services and experienced project staff augmentation in the areas of:
Serverless Computing on the Amazon Web Services (AWS) Cloud
Secure Application Programming Interfaces (APIs)
Program and Project Management
Aviation Logistics Services
Business Strategy and Financial Management
Operations, Logistics, and Supply Chain Management
Data Mining and Analysis
Software Development, Information Management and Monitoring
Energy Management and Sustainability
Policy and Regulatory Compliance.
Our clients include Federal Government agencies, aerospace and defense companies, energy service providers, and utilities. In addition, we assist venture capital and private equity firms involved in energy investment programs, including wind and solar development, nuclear power, fossil fuels production, gas pipeline and electric transmission, and geothermal/ocean thermal projects. We also support clients with improvement initiatives such as lifecycle cost reduction, supply chain and logistics optimization, and information technology development.
Approach
Our approach is to work closely with our clients to apply leading processes and solution strategies, implementation experience and trusted advice that increases investment value and enhances performance. We design and develop software to provide support across a project lifecycle and work with clients during planning and business case definition to establish contingency or risk sharing implementation arrangements.
Capabilities & Services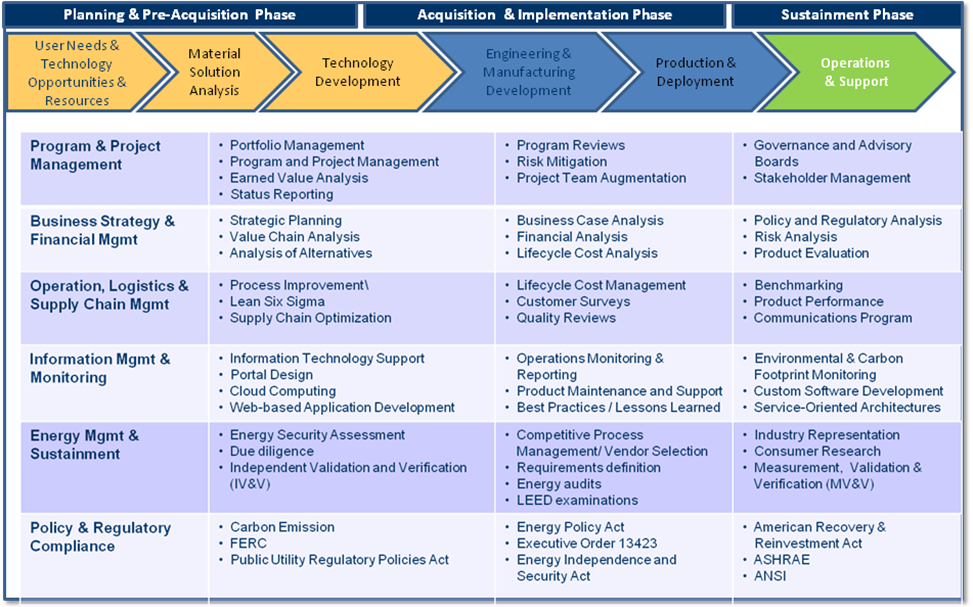 Company Type: Verified Service Disabled Veteran Owned Small Business (SDVOSB) Limited Liability Corporation (LLC)

DUNS Number: 830911520

CAGE Code: 5JE57

Navy SeaPort-e: Prime N00178-10-D-5887

GSA IT-70: GS-35F-128AA

DHS EAGLE II: HSHQDC-13-D-E2050

Locations:
Washington DC Metro Area 804-313-9894
Norfolk, VA Area
Philadelphia Metro Area
Chicago Metro Area

NAICS codes: AMPS LLC provide services across a broad range of Industry codes including:

518210 - Data Processing, Hosting, and Related
541611 - Management Consulting Services
541990 - Professional and Technical Services
541330 - Engineering Services
561614 - Logistics Consulting Services
561119 - Administrative Services
541519 - Other Computer Related Services
541511 - Custom Computer Programming Services
541512 - Computer Systems Design Services
541513 - Computer Facilities Management Services
541690 - Other Scientific and Technical Consulting
561210 - Facilities Support Services
561618 - Financial Consulting Services